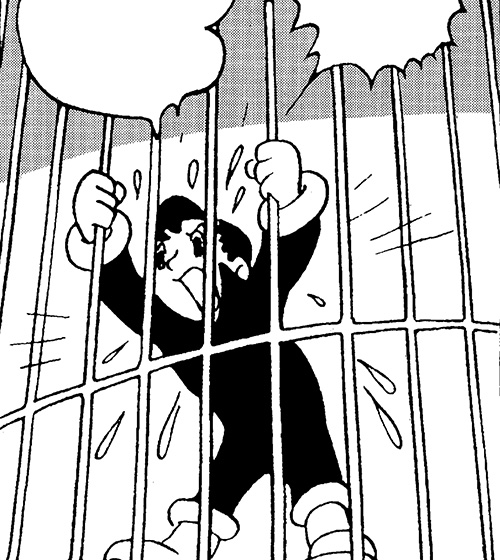 Rock punishied by Bird Cage
(Excerpt from Boku wa Mangaka published by Mainich Newspaper)
The story starts from the scene that Star Nation and Uran Union begin Cold War. Uran Union, largely controlled by President Whisky, has a huge number of secret factories under the tundra area, where Higeoyaji and Rock, a spy of Star Nation, are engaged in forced labor. Once the workers make a protest, they are punished under sentence of "bird-cage" and brainwashed till their personalities are completely wrecked. On the other hand, Lamp, who became an overnight billionaire from a homeless guy thanks to the power of dollar, buys up all the technologies in Star Nation as hearing the Earth will be destroyed. He plans to build an evacuation rocket so that only he and his family can survive.
Anyway, I began writing the work with nihilistic thought, planning to complete it with a sad ending. But I had the story ended happily as Korean war was suspended while Japan signed San Francisco Peace Treaty at least. But I did not forget to add a warning that the danger would come soon if we commit mistakes again as such a pompous ending appealed to college students. By then, not only children but also grown up read my works.

(Please note the above is a liberal translation of the original text in Japanese. )