Story
This is a full-length manga work set in Japan and Germany during WW2, featuring the life of three men all by name of Adolf.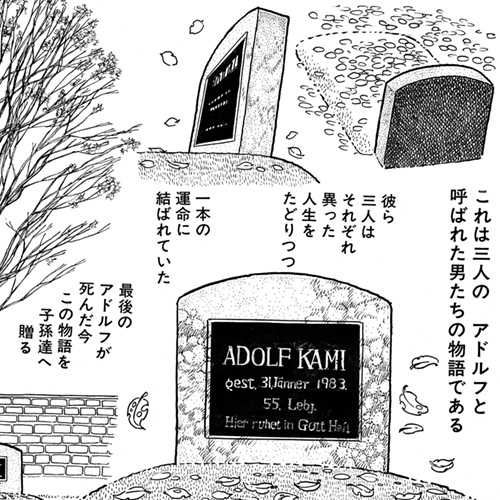 Frontiepiece/Three Adofl, Episode1/Shukan Bunshun/Bungei Shunjusha/1983
In 1936. Toge Sohei visits Germany to cover Berlin Olympic Games, where he finds his younger brother studying in Berlin was murdered. Then, the reason of his death is revealed. He was killed due to a letter he sent to Japan. In the letter Adolf Hitler's birth secret that he was a part Jew was written. On the other hand, Wolfgang Kaufmann, an officer at German Consulate in Kobe is searching whereabouts of the letter by order of the country. Kaufmann has a son by name of Adolf, and tries to raise his son as a 100% nationalist. But his son is hostile against Nazi's idea of killing Jew since his close friend is Jew. Under the dictatorship of Adolf Hitler, the lives of two Adolf are distorted gradually whether they like it or not.