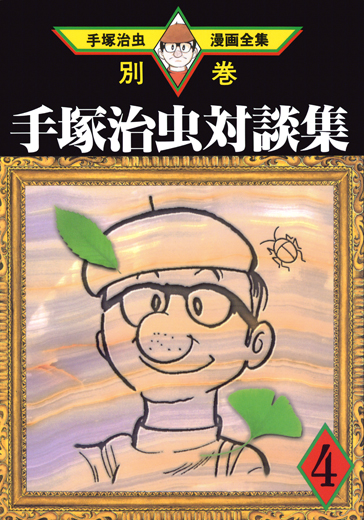 STORY
"Comics: past, present, and future," with Komatsu Sakyo

Here, Tezuka Osamu and Komatsu Sakyo discuss Manga aimed at girls, starting with the work entitled "The Po Clan."

"An epic adventure in another world," with Tanemura Suehiro

This is a study of Japan's fantasy-art culture beginning with the art of kabuki, in which Tezuka Osamu engages in discussions with Tanemura Suehiro, a philosopher and also a specialist in the field. The reader finds himself agreeing with Tezuka Osamu's statement that kabuki holds within it "dreams of man that can never come true."

"Why are there so few science fiction writers writing for young girls?," with Hagio Moto

Hagio Moto became a Manga writer following in the footsteps of Tezuka Osamu, and in her distinguished career has produced many great works. Here Tezuka Osamu accepts her as an accomplished colleague, speaking of her works with an extremely gentle air. The two discuss a great range of topics, including everything from sexuality in girls' Manga to science fiction writer Ray Bradbury to the ghost writers who provide the rough drafts to Manga writers.

With Tsurumi Shunsuke

In this conversation, Tezuka Osamu talks with Tsurumi Shunsuke, who is a critic as well as philosopher, on topics such as cross-cultural exchange and co-existence. Tsurumi expresses his view that "the idea of reading Baudelaire and then trying to surpass him poses a danger to Japanese culture," adding that the important thing is not trying to outdo others, but rather to do one's own work. He bases his ideas on the premise that "the root of all cultures is one and the same," and it is of interest here to see Tezuka Osamu express complete agreement with the works of the philosopher.

"Geniuses are an arrogant bunch," with Tatekawa Danshi

The two artists, one a "rakugo" master and the other a genius Manga writer, engage in a light discussion that refutes many aspects of modern society, from Disney to the destruction of the environment.

With Maki Miyako

Here, Tezuka Osamu talks with Maki Miyako, wife of Manga write Matsumoto Reiji. There is a certain easy affinity between them stemming from the fact that both are Manga artists from the Kansai region, and the two discuss memories of Osaka, the culture of Osaka, and more.

"Impressions of the 20th Century," with Gentani Kunio

The first thing Gentani, a scholar of French literature, says here is "Today I'd like to hear Tezuka Osamu himself talk about the Tezuka Osamu phenomenon." Tezuka Osamu then proceeds to talk about the influence his Manga have had in the world. Taking a characteristically modest stance, it is interesting to see how Tezuka Osamu is negative with regard to movies displaying sensibilities similar to his own works.

"Discussion between parent and child," with Tezuka Makoto

Though Tezuka Osamu sometimes appears to be strict with his son Makoto (a visual media writer) in regards to Makoto's work, we see here that he cannot help but smile in the end. This piece clearly conveys the love between father and son, giving us a warm impression of their relationship.
DESCRIPTIONS
"Mushirareppanashi," from Ushio Publishers, 1995