(2016/04/19)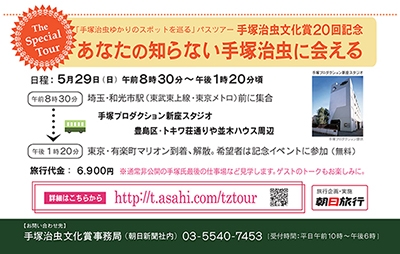 Commemorating the 20th anniversary of Tezuka Osamu Culture Award hosted by Asahi Newspaper, the following special bus tour is conducted.
The tour visits the places related to Tezuka Osamu, following his steps from his youth to last years.
The participants can also attend the special events and awarding ceremony for free.
Date & Time
Sunday, May 29, 2016  8:30 a.m. – 13:20 p.m.
The participants meet at Wako station (Tobu Tojo Line or Tokyo Metro Fukutoshin Line) at 8:30 a.m.
・The 1st designation: Tezuka Production Niza Studio
Visiting Tezuka's last atelier and material room
・The 2nd designation: Tokiwa-so Apartment Street and Namiki House area
Visiting the site of former Tokiwa-so Apartment, monuments of various manga artists established nearby and Namiki House where Tezuka Osamu used to live.
The tour is solved at Yurakucho Marion at 13:20. The person interested in the special events held from 13:30 can participate in the event for free.
・Guide of the tour
Tetsuya Kurosawa
Kurosawa, born in 1957 in Tokyo, is the chief editor for Edgestar Comics (Shogakukan Creative) as well as an original writer for manga works.
Now his essay is serialized in Mushi-Sanpo, the web magazine in Tezuka Osamu Official Site.
・Special guest for the tour
Akira Maruyama
Maruyama, born in 1930 in Yamanashi, was the chief editor for the magazine "Shojo Club", and worked with various famous manga artists, including Tezuka Osamu, Shotaro Ishinomori, Fujio Akatuka and more.
He was awarded the 5th Tezuka Osamu Culture Award Special Award.
special favor:
The participants of the bus tour can attend the special commemorative events as well as the awarding ceremony for free.
Please specify your intention when applying to the tour.
Fee:
6900 yen (with light meal)
Minimum number of participants needed:
26 people THANK YOU,SOLD OUT!
Planned and conducted by Asahi Ryokou
Planning Cooperation: Asahi Newspape
Cooperated by Toshima city and Tezuka Productions
For further information, check the site below: here!