(2016/04/04)



The Atom Currency, which firstly went current in the year 2004, starts again.
The 13th circulation starts on April 7, 2015!
・───・───・Circulation Period・───・───・
April 7, 2016 – February 28, 2017
(valid till February 28. 2017)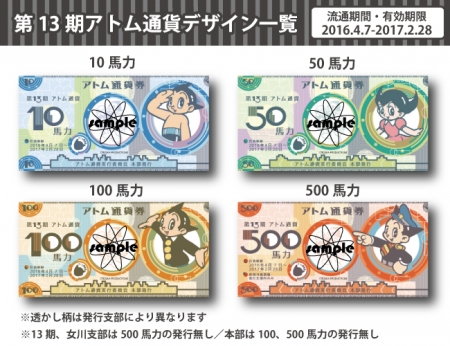 Each branch has its own watermark on the bills.
http://atom-community.jp/headoffice/003194.html
What's Atom Currency?
The Atom Currency is a local currency which was originally started in 2004 to activate and cultivate local communities in Waseda and Takadanobaba areas.
Tezuka Productions is also a member of the executive committee, proactively engaged in the activities as a part of its CSR activities.
Since 2006, the Atom Currency has been adopted in various local communities, and now 20 million horse powers (yen) is circulated nationwide.
Local communities adopting the Atom Currency (as of April, 2016):
Sapporo, Hokkaido/Onagawa, Miyagi/Waseda and Takadanobaba, Tokyo Niza, Saitama/Wako, Saitama/Head office, Tokyo/Kasugai, Aichi/Yaeyama Okinawa
Let's use Atom Currency!
The Atom Currency can be used at all the member stores and some events. One horse power is equivalent to one yen.
Let's get Atom Currency!
You can get the Atom Currency when you do something good which meets the four philosophies of the currency: local community, environment, internationalism, and education.
Get the currency at the projects or events organized or authorized by the Atom Currency.
Such projects or events include using your own chopsticks at the designated restaurants, ordering dishes made with local products, bringing your won bag when shopping at the supermarket, cleaning public areas, participating local festivals, collecting plastic bottle caps etc.
Upcoming Events
Wako Branch
The 13th Atom Currency Opening Event
Date & Time: April 7, 2016 10:00 – 11:30
Place: South Square in front of Wako Station
Organizer: Atom Currency Wako Branch
* 100 horse powers are given to participants who bring more than 10 plastic bottle caps.
For more information, check the site below: here!
Waseda & Takadanobaba Branch
Cleanup Activity commemorating the Birthday of Astro Boy
Date & Time: April 17, 2016 10:00 – 11:00
Venue: Takadanobaba station square
Organizer: Cleanup Activity Executive Committee/Takadanobaba West Shopping District
 100 horse powers are given to participants in the cleanup activity.
 cancelled in case of rain
The 13th Period Opening Festival
Date/Time: April 17, 2016 10:00 a.m. – 11:00 a.m.
Venue: Takadanobaba station square
* canceled in case of rain
1. Get a 10 horse power bill by bringing one or more plastic bottle caps/unused postcards/CD/used books.
2. Get a 50 horse power bill by participating in ECO workshop.
For more information about the Atom Currency, check below:
http://atom-community.jp/ (website)
http://www.facebook.com/atom.community/ (facebook)
@atom_pr https://twitter.com/atom_pr (twitter)
@atom_c_wt https://twitter.com/atom_c_wt (twitter)