(2009/10/27)


To commemorate the 80th anniversary of Tezuka Osamu's birthday, for the first time, works that have never been published in book form will be completely reprinted as they were in the original magazine series.
Accurately re-creating the colors of the original, reprinted in magazine format as they were originally published, and gorgeously presented in a deluxe box to treasure, this is an eagerly-awaited dream project!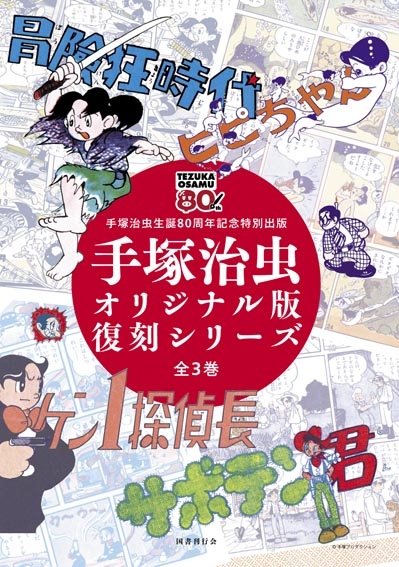 The First Set (on sale)West Rush / Pipy
A boy sword fighter storms all over the world.  West Rush is a strange, fantastic adventure on a magnificent scale.  This set also includes Pipy, a great fantasy about the adorable "water human," Pipy.  
Price: 6,300yen (including tax)
Format: B5 (182mm x 257mm), boxed set, color (2, 3, or 4 colors) and black-and-white
Number of pages: average of about 220 pages per set
Publisher: Kokushokankokai Corporation Ltd.
Subsequent sets as follows:
The Second Set (scheduled to be released in December 2009)
Milkhall Territory
- Cyrano, the Hero, which was not included in "The Complete Manga Works of Tezuka Osamu," is to be published for the first time since serialization.
- Special supplement: Saboten, Get Your Gun! is to be separately included in the set as it was originally published.   
The Third Set (scheduled to be released in February 2010)
Chief Detective Ken-1
- Special supplement: Invisible Man in B6 size (128mm x 182mm) is to be separately included in the set.
- Bonus for purchasing all sets - 
Purchasers of all three sets are entitled to receive reproduction artworks for the inside cover of West Rush
(in B5 size, 182mm x 257mm, five artworks, in color).  
To receive the bonus, cut out the coupon from the wrapper band of each set, affix them to the enclosed card, and send them within six months from the release of the final set.