(2016/02/18)


Tsugihagi Café featuring Young Black Jack is held at SHIROBAKO
Tsugihagi Café featuring Young Black Jack is held at SHIROBAKO, a café operated by aspiring voice actors, for two seeks from February 24, 2016. During the period, UMI☆KUUN's mini-live show as well as bingo games are held!
For further information, check the site: here!.
The sleeve of Young Black Jack Blu-ray & DVD release on March 23!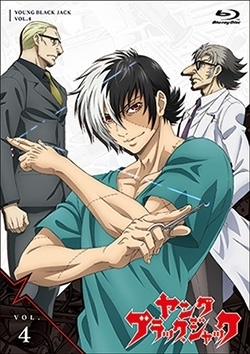 Liesenberg, Hugo and Kuroo
The vol.4 contains episode 7 and episode 8.
The animate special edition contains "Special Talk by Yuichiro Umehara and Akio Otuka."