(2016/01/29)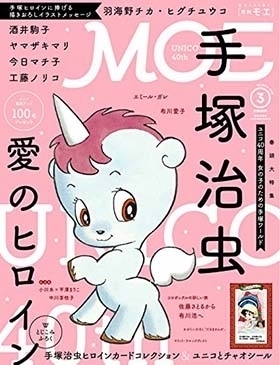 In commemoration of the 40th anniversary of UNICO,
MOE features Tezuka's sweet and lovely characters at the beginning of the magazine.
Especially illustrations newly drawn by popular artists are can't-miss! Plus Unico and Chao's stickers and cards are bound-in as supplements!
The monthly magazine MOE (Hakusen-sha)
Amazon (MOE, March 2016 Issue )
The year 2016 is the 40th anniversary of Unico!
Unico Twitter : https://twitter.com/unicoclub@UNICOclub
Unico Special Site : https://tezukaosamu.net/jp/unico/
Unico PV : https//youtube/EgXQ0Lyg7Uc