(2016/01/27)


Young Black Jack Blu-ray & DVD vol.2 is released today! The sleeve design for vol.3 is also disclosed!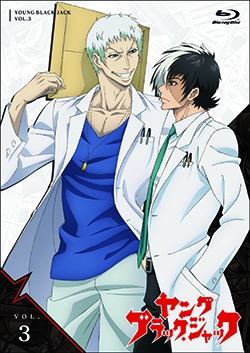 The episodes of "Vietnam #2" and "Vietnam #3" are recorded in upcoming Vol.3. On the sleeve appear the illustration of Kuroo and Kiriko newly drawn! Animate Special Edition also contains a talk held between Yuichiro Umehara and Junichi Suwabe.
In those vol.2 and vol.3, the serial number necessary for preferential purchase of the ticket for the following event are enclosed.
TV animation Young Black Jack Special Event
Date: April 17, 2017
Performers: Yuichiro Umehara (VC as Kuroo Hazama), Koji Yusa (as Yabu), Shizuka Ito (as Maiko Okamoto), Junichi Suwabe (as Kiriko), Mamoru Miyano (as Hyakkimaru), UMI☆KUUN and Takuto