(2016/01/05)


Heijokyo History Museum Special Winter 2016 The Exhibition: Nara and Phoenix – Yamato depicted by Tezuka Osamu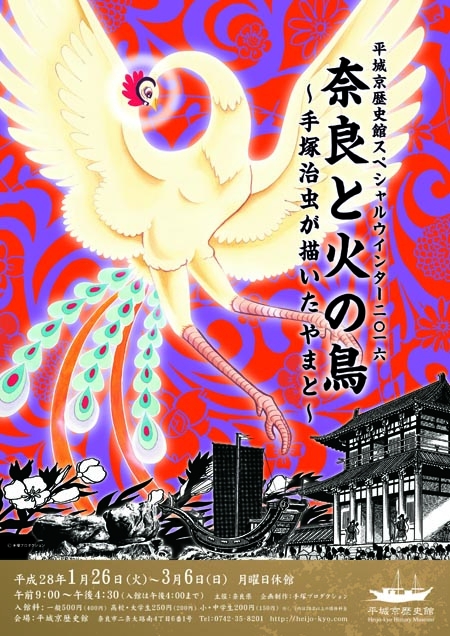 Original manuscripts of "Phoenix" and "Yamato" of "Phoenix", one of Tezuka Osamu's masterpieces, are exhibited. This is the first exhibition ever held in Nara featuring Phoenix.
Period: Jan. 26 – March 6, 2016
Venue: Heijokyo History Museum (4-6-1 Nijo Oji Minami, Nara )
Hours: 9:00 – 16:30 (last admission: 16:00)
Closed on Mondays
Admission Fee: Adult 500 yen, Highschooer/College student 250 yen, Junior-high school and Elementary school student 200 yen
Hosted by Nara Prefecture and Heijokyo History Museum
Planed and produced by Tezuka Productions Co., Ltd.
The following special events related to the exhibition are held on Feb. 14.
No advance application required.
First 150 people
Doors open at 14:20.
Talk Stage Theme: Tezuka Osamu and Nara
Time: 14:30
Guest: Osamu Takeuchi (Manga ciritic/Professor of Doshisha University)
Screening Theatrical Animation: Phoenix (produced in 1986)
Time: 15:30 (60 min.)
Other related events and workshops:
Making of Heijokyo Pop-up Art
Making of Oni-gawara
Wearing costume in Tenpyo era
Making of Thaumatrope etc.
For further information, visit the following site : Heijookyo History Museum
Contact:
Heijookyo History Museum / Tel: 0742-35-8201