(2016/01/25)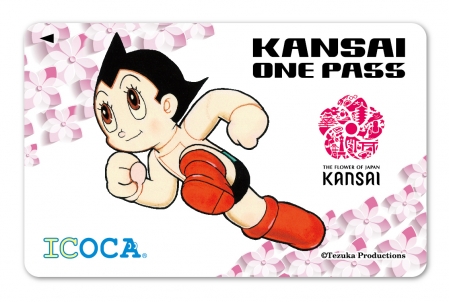 Good news for foreign visitors to the Kansai area!
The prepaid transportation card with Astro Boy image is going to be launched on 8th April, 2016.
Just show your passport at the Kansai-kouku train station by the Kansai airport or other majour train stations in the Kansai(Osaka/Kyoto) area. You will have an easy access for train, subway and bus especially in the Kansai area where IC transportation card, ICOCA and PiTaTa are available. The card will be available in many places in Japan also other than the Kansai area such as Tokyo
You can also have benefits and discounts at about 90 sightseeing places and stores including 41 stores in the Kansai airport with showing KANSAI ONE PASS.
Why don't you visit the Osamu Tezuka manga museum in Takarazuka ( http://www.city.takarazuka.hyogo.jp/tezuka/ ) and show your Kansai One Pass? You will get 20% discount admission fee of the museum.
A special mobile site will be available soon for information of your benefits and discounts as well as sightseeing places in the Kansai area for your convenience.
Price : JPY3,000 (deposit JPY500 is included)