(2009/11/05)


Send New Year's greeting cards with Tezuka characters
Now it's time to prepare season's greetings! 
The New Year's greeting card with Tezuka characters are on sale! Not only cards with Tezuka's original characters such as Astro boy and Leo but also cards with some other characters are available.  Choose your favorite from various designs and send them to your friends!
Astro boy, Leo, all characters, the movie "Astro boy", tezuka moderno (from the left) Click the card above to enlarge the image. The cards above are just a part of our lineups. There are some other versions with various characters.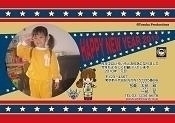 Our No.1 recommendation is "bj league x Black Jack" version (above). Designs with Pinoko in each team's uniform are available (all 13 patterns). How cute! Our ample lineups allow you to choose the best for your friends, boss, co-workers, and teachers.
A wide range of designs with Tezuka characters such as Astro Boy, Phoenix, and Jungle Emperor, from cute designs to cool designs, will sure satisfy your needs.
Check out our exciting lineups on the catalogue now!
Click here to get the catalogue! (Another window will be opened.)