(2015/10/10)


The Exhibition: Original Drawing by Buichi Terasawa starts today!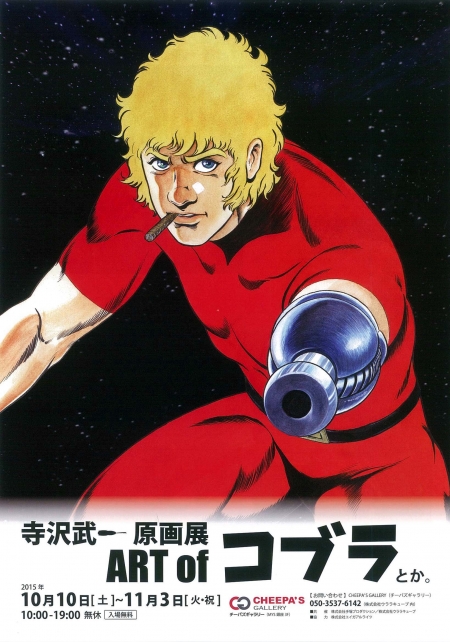 ©BUICHI TERASAWA/A-GIRL RIGHTS
Buichi Terawasa, a former assistant of Tezuka Osamu, was a forerunner who started drawing manga digitally more than 30 years ago, and still popular among manga and animation fans thanks to his unique works and well-defined characters.
At this exhibition, approximately 60 drawings by Buichi Terasawa, including both drawn digitally and manually, are displayed with explanation of how he drew manga digitally even at the early stage of digitalization.
The exhibition also has a photo-taking corner where visitors can take a picture with Lady Armaloid and Psyco Gun and a shop selling reproductions of his original drawings.
Along with the exhibition, the café on the 1st floor and the bar on the basement offer drinks inspired by Cobra during the exhibition period.
On November 3, the last day of the exhibition, Buichi Terasawa visits the exhibition to hold an autograph session for his fans. (Note numbering tickets will be delivered for customers who purchase a particular good at the shop.)
Don't miss this precious opportunity to appreciate his original drawings!
Period : October 10, 2015 – November 3, 2015
Venue :
CHEEPA'S GALLERY
MYS Ginza 3rd floor, 7-12-15 Ginza, Chuo, Tokyo
Hours : 10:00- 19:00
No holidays
No admission fee required
For further information, check CHEEPA'S GALLERY's site below : here!
Contact : URARA CUBE   Tel: 050-3537-6142