(2015/09/30)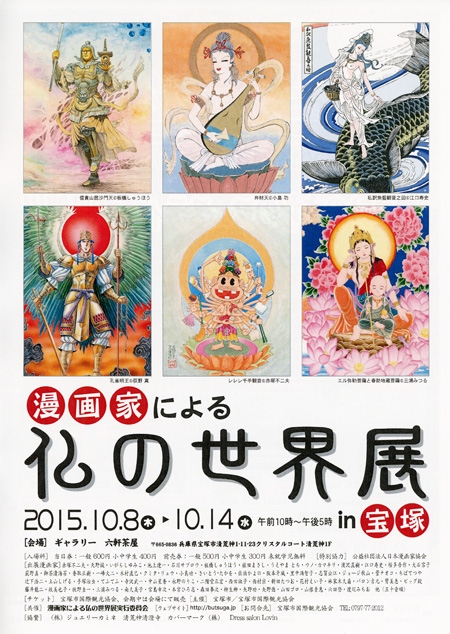 The Exhibition of Buddha Illustration by Manga Artists is held at Gallery Rokenchaya in Takarazuka, which is the 10th venue of the exhibition, as a part of Takarazuka Anime Festival. The exhibits include Buddha and Phoenix, Tezuka's main works.
The Exhibition of Buddha Illlustration by Manga Artists in Takarazuka
Period: October 8, 2015 – October 14, 2015
Venue: Gallery Rokenchaya
(2 min. walk from Hankyu Kiyoshikoji station)
Hours: 10:00 -17:00
Admission Fee
On the day: Adult 600 yen, Elementary & Junior Highschooler 400 yen
Advanced: Adult 500 yen, Elementary & Junior Highschooler 300 yen
Organized by Takarazuka International Tourism Associate
Exhibits include illustration by 60 manga artists
Concept:
The exhibition is a part of charitable projects a lot of manga artists have been involved in to help areas damaged by the Great East Japan Earthquake, supported by Japan Cartoonists Association.
We, Japanese may see Buddha not only as a religious figure but also as a character we can trust our dream and hope we have in our daily life to. From that point of view, we think Manga and Buddha might have something in common. For this exhibition, many artists, who agreed with the idea, kindly provided their illustrations, and the number of exhibits has increased along with the tour nationwide. All the illustrations are filled with respective artist's uniqueness, attracting visitors with the power of manga. Some stand in front of the illustrations, joining their hands in prayer while some watch the illustration with their eyes filled with tears. Thus the encounter with Buddha illustrated by manga artists somehow reveals important things we have in mind.