(2015/09/08)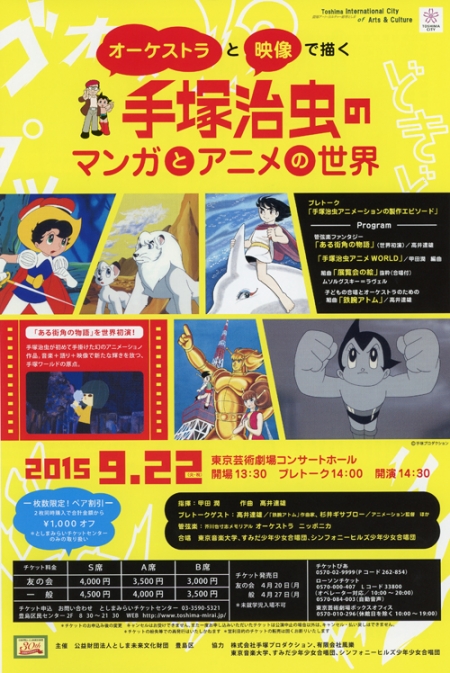 A full-orchestra concert depicting the world of Tezuka Osamu's manga and animation is held on September 22 in Ikebukuro, Tokyo.
What remarkable about the concert is "Tales of a story corner", the very first work Tezuka Osamu produced is performed firstly by an orchestra in the world.
The origin of the world of Tezuka Osamu is developed on the stage through music, animation and narration.
The attraction of art cultures is sent out to the world from Toshima, Tokyo, the city a variety of manga and animation cultures are alive.
Two days experience of a fusion of manga, animation and music
The world of Tezuka Osamu developed with an orchestra and animation!
Date & Time : Tuesday, September 22 14:30 p.m. (doors open at 13:30)
           * The talk show by guests is held at 14:00.
Venue : Tokyo Metropolitan Theater, Concert Hall
Conducted by Jun Koda
Composed by Tatsuo Takai
Guest: Tatsuo Takai, Gisaburo Sugii
MC/Narration: Ran Ito
Performed by Orchestra Nipponica
Choir by Department of Vocal Music, Tokyo College of Music, Sumid Boys and Girls Choir Group etc.
Part 1: Talk Show "Astro Boy" by Tatsuo Takai and Gisaburo Sugii
Part 2: Orchestral Fantasy "Tales of a Street Corner"
Program:
-       The World of Tezuka Osamu's Animations Medley (Jungle Emperor, Torion of the Sea, Ambassador Magma, W3 and Princess Knight
-       Astro Boy – the Suite for Children Choir and Orchestra
-       Tales of a Street Corner
Admission Fee :
| | | | |
| --- | --- | --- | --- |
| All seats reserved | Seat S | Seat A | Seat B |
| the general public | 4500 yen | 4000 yen | 3500 yen |
| Tomonokai members | 4000 yen | 3500 yen | 3000 yen |
* The price in parentheses is for Tomonokai members.
* 1000 yen is taken off from the total amount if two or more tickets are purchased at the same time (those thickets must be the same kind).
Tickets : Toshima Mirai Ticket Center  Tel:03-3590-5321