(2015/07/22)


"Draw!" Manga Exhibition -Drawing Manga!-Lines,Panels,Kyara is held at Oita Prefectural Art Museum.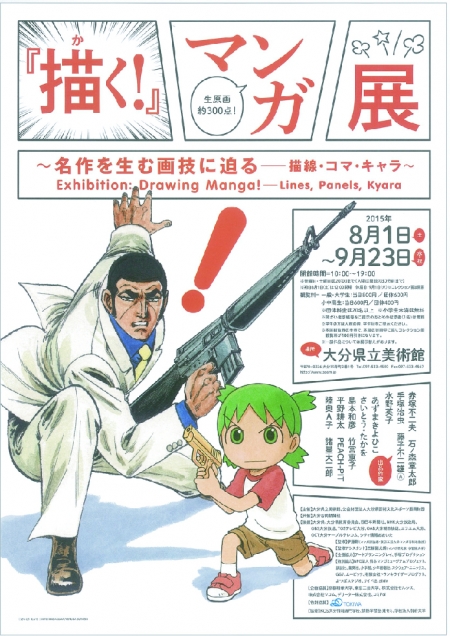 © Takao Saito ©KIYOHIKO AZUMA/YOTUBA SUTAZIO
The exhibition introduces excellent techniques of great manga artists, mainly focusing on their drawing, the very essential part of manga. The exhibition also features background of great manga works from various points of view.
More than 300 exhibits, including original manuscripts by established manga artists as well as today's popular manga artist are displayed with explanation at the venue. Among them are Tezuka's "Pin pin sei-chan" and "Black Jack".
Also several related events are held during the exhibition period.
For further information, check the official site of the museum below : here!
List of artists
Fujio Akatsuka, Shotaro Ishiomori, Osamu Tezuka, Fujiko Fujio (A), Eiko Mizuno, Kiyohiko Azuma, Takao Saito, Kazuhiko Shimamoto, Keiko Takemiya, Kota Hirano, PEACH-PIT, Ako Mutsu, and Daijiro Mroboshi
Title: "Draw!" Manga Exhibition -Drawing Manga!-Lines,Panels,Kyara
Period: August 1m 2015 – September 23, 2015
Venue: Oita Prefectural Art Museum, Exhibition Room B
Hours: 10:00 – 19:00 (last admission: 18:30)
*The museum opens till 20:00 on Friday and Saturday
*The museum opens at 12:00 on August 1.
Closed:on September 1.
Admission Fee:
Adult/University student: 800 yen (on the day)/ 600 yen (group)
Elementary/Junior High/High school student: 600 yen (on the day)/400 yen (group)
Preschooler or younger: Free
*The group rate is applied for a group with 20 member or more.
*No admission fee for a visitor with disability certificate and his/her escort.
*Students are required to show student identification cards.
The information about the tour of the exhibition will be updated when confirmed.
Contact:
Oita Prefectural Art Museum
Address: 2-1 Kotobuki-cho, Oita, Oita
Tel: 097-533-4500