(2015/07/01)


The Transformation, Shoji Kawamori Design Works – from Macross to Cyber Formula to Aquarion to infinity-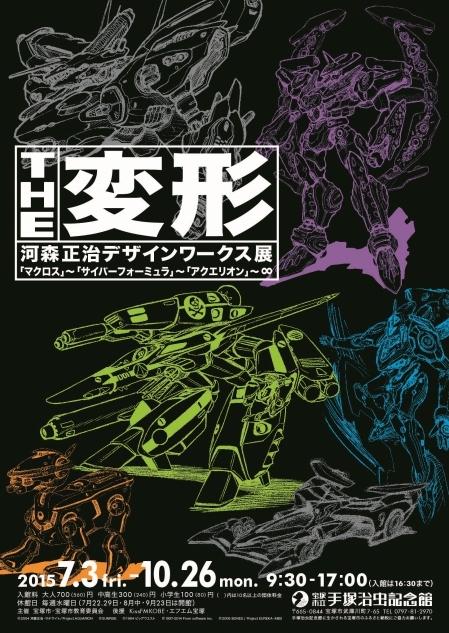 ©2004 Shoji Kawamori, Satelight/Project AQUARION
©SUNRISE
©1984 BIGWEST
©1997-2008 FromSoftware, Inc. All right reserved.
©2005 BONES/Project EUREKA
About Shoji Kawamori (Aimation Director/Producer/Designer):
Shoji Kawamori is a Japanese creator of all time who defies the boundaries of genres. His major works include Macros series and Aquarion series.
This exhibition features his design works based on the theme: Transformation.  So far, he has been engaged in numerous design works and it's impossible to display all of such his works within the museum.  Therefore, the exhibition especially focuses on his design works based on the theme: Transformation, which shows his unique talent to the fullest.
Please enjoy Kawamori's design works changing constantly.
The 65th Exhibition: The Transformation, Shoji Kawamori Design Works – from Macross to Cyber Formula to Aquarion to infinity-
Period: July 3, 2015 – October 26, 2015
Holidays: Wednesdays (except July 22 and 29, Wednesdays in August, and September 23)
Organizer: Takarazuka City, Takarazuka City Board of Education
Sponsored by Kiss FM KOBE/FM Takarazuka
Specially cooperated by Satelight Inc.
For further information, visit the following site : here !