(2015/06/10)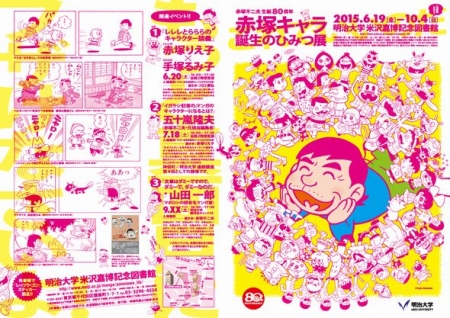 Commemorating the 80th birthday of Fujio Akatsuka, a manga artist called as the king of gag manga, the Exhibition: The Very First Story of Akatsuka Characters is held from June 19, 2015 till October 4, 2015.
Also, along with the exhibition, the talk show by Rieko Akatsuka, a daughter of Fujio Akatsuka, and Rumiko Tezuka, a daughter of Osamu Tezuka is held.
The daughters of two big manga artists who created a lot of memorable characters talk about their fathers' works.
The Talk Show: Rerere to Lalala no Character Dangi
Participants: Rieko Akatsuka, Rumiko Tezuka
MC: Takahiro Kawaguchi
Venue: Meiji University Yonezawa Yoshihio Memorial Library (2F)
http://www.meiji.ac.jp/manga/yonezawa_lib/
Period: June 20, 2015
Time: 16:00 – 17:30
Admission Fee: Free
*Note a membership fee (300 yen for one day membership) is required.