(2012/10/09)


TOMM the 57th Exhibition: From Astro Boy to Mazinger Z
Commemorating the 60th anniversary of Astro Boy and the 40th anniversary of Mazinger Z,TOMM holds the exhibition: From Astro Boy to Mazinger Z.
Period: October 26, 2012 – February 19, 2013
Holidays: Wednesdays (except January 2), Winter Holidays (Dec. 29 – 31)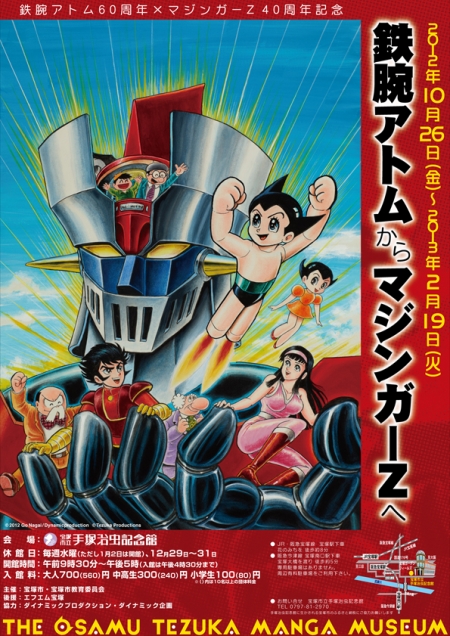 The year 2012 is the anniversary year for Astro Boy, Mazinger Z and Devil Man. Astro Boy authored by Osamu Tezuka was serialized 60 years ago while Mazinger Z and Devil Man authored by Go Nagai were serialized 40 years ago.
Astro Boy, the origin of robot hero manga, was turned into the first 30min. TV animation series in Japan.  The story of a super-robot boy attracted not only children but also adults then.
Following Astro Boy was Mazinger Z, a new type of robot which could be operated by a man who rode on it, which greatly amazed readers then. Mazinger Z was placed in the hand of the hero boy by his grandfather who died saying "You could be either God or Devil with the robot".
Another Nagai's major work, Devil Man was also serialized 40 years ago.
The story of the hero who unites with Devil to save humans, eventually fated to fight against the darkness of not only Devil but also humans, stands on the same theme depicted in Mazinger Z.
The exhibition features these three works, displaying manuscripts of the memorable scenes, and introduces attraction of Osamu Tezuka and Go Nagai.