(2011/09/16)


The Information of Upcoming Exhibition! TOMM the 54th Exhibition: Manga – the world of Shotaro Ininomori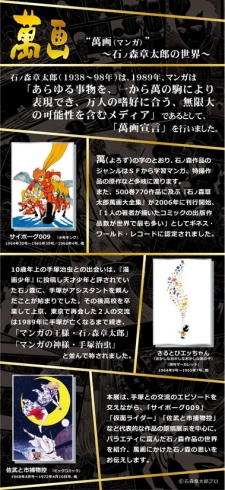 In 1989, Shotaro Ishinomori (1938-1998) made Manga declaration. In the declaration, he said Manga was a medium with limitless possibility which enables us to express anything in any way as anybody likes.
His manga works include wide range of genres, from Sci-Fi to educational comic. Some of his works were adopted into special effects films/TV shows.   He is also known as a manga artist who authored a lot of works. In 2006, Shotaro Ishinomori Manga Works Complete Collection, which consists of 500 volumes and 770 titles, was released, and he was officially recognized by the Guinness Book as the manga artist whose works were published the most in the world.
Ishinomori, who posted his works to "Manga Shonen" and was accounted a genius, became Tezuka's assistant after graduating from high school. Since then Ishinomori and Tezuka had an interaction till Tezuka died in 1989.  Ishonomori and Tezuka were called "King of Manga" and "God of Manga" respectively.
The exhibition introduces the world of Ishinomori with manuscripts of his major works, including "Cyborg 009", "Masked Rider" and "Sabu to Ichi", conveying his thought for Manga.   It also introduces his exchanges with Tezuka during his career.
Period: October 28, 2011 – February 20, 2012
Holidays: Wednesdays (except November 23 and January 4). Winter holidays (from Dec. 29 – 31)