(2011/08/10)


The Exhibition: osamu moet moso – featuring Noiji Ito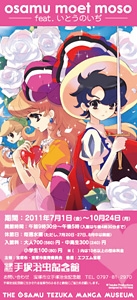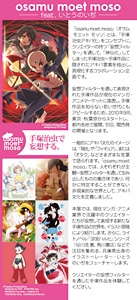 What is osamu moet moso?  It's a collaborative project by today's creators based on the concept AKIBANIZING Tezuka who is now deified as God of Manga.  The creators dig out AKIBA elements hidden in Tezuka's works and embody them through their delusions in this project.
The exhibition: osamu moet moso, firstly held in September 2010 in Akihabara, aiming to penetrate Tezuka's works to today's manga and animation markets as well disseminate them to young people who don't know Tezuka. Since then, the exhibition has been toured several spots in Tokyo, and this time is firstly held in Kansai area in Japan.
The new world of Tezuka's works through illustrations by today's creators is developed in this exhibition.
The exhibition also features Noiji Ito, one of the creators participating in the project. Ito is an illustrator from Hyogo, who is famous with his illustrations for Suzumiya Haruhi series.
Creators participating in" osamu moet moso":
Ju Ayakura (illustrator)/Noiji Ito (illustrator) /Takeshi Okazaki (manga artist/illustrator) /Narumi Kakinouchi (manga artist/illustrator) /KEI (illustrator) /Akemi Takada (animator/illustrator)/POP (illustrator) /Haruniko Mikimoto (illustrator/character designer/manga artist) /Renji Murata (illustrator/character designer) /Mine Yoshizaki (manga artist) /Chack Mori (illustrator) /Kamo (illustrator)/ Toshihiro Hirano (animator)/ Eri Kamijo (illustrator) /Takashi Okazaki (manga artist/illustrator) /Mina Okazaki (illustrator) /Otonari Kobo
And five more creators newly participate in from this exhibition!
・Tsubasu Izumi
・Yuki Kure
・Hidetaka Tenjin
・Aoi Nishimata
・Aruko Wasa
Information
Period: July 1, 2011 – October 24, 2011
Hours: 9:30 a.m. – 17:00 p.m. (last admission: 16:30)
Holidays: every Wednesday (except July 20, 27 and all Wednesday in Augutst)
Admission fee:Adult:700 yen (560 yen),Junior High/High School Student:300 yen (240 yen),Elementary school Student: 100 yen (80 yen)
*The figure in parenthesis is for group more than 10 members/
Autograph Session
- Noiji Itou Autograph Session
Saturday, July 23
- Hidetaka Tenjin Autograph Session Saturday, August 6
Further information about the sessions is released later.