(2015/04/24)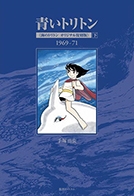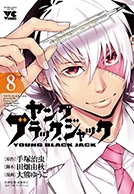 Osamu Tezuka's Titles
| | | | |
| --- | --- | --- | --- |
| Title | Publisher | Price | Release date |
| Tezuka Osamu Selection"The Eupherates Trees" vol.4 (only available at convenience stores) | Sanei Shobo | 639 yen | May. 8 |
| "Blue Triton" – the original reprinted edition of Toriton of the Sea (The 2nd volume) | Fukkan.com | 6000 yen | May 23 |
| ATCW "Pheonix (Resurection, Robe of Feathers and Nostalgia))" (only available at convenience stores) | Akita Publishing | TBD | May. 28 |
Books based on Osamu Tezuka's works
Title
Author
Publisher
Price
Release date
Young Black Jack vol. 8

Original work: Osamu Tezuka

Script: Yoshiaki Tabata

Manga: Yugo Okuma

Akita Publishing
533 yen
May 20
Feature of the Month
Atom the Beginning
Heroes

Monthly magazine Heroes (only available at Seven-Eleven stores)

Now serialized

Original idea: Osamu Tezuka

Concept works: Msami Yuki

Manga: Tetsuro Kasahara

Supervisor: Makoto Tezuka

Cooperation: Tezuka Productions Co., Ltd.

The story till the birth of Astro Boy starts!
Young Black Jack
Akita Publishing

Original work: Osamu Tezuka

Script: Yoshiaki Tabata

Manga: Yugo Okuma

Now serialized in Young Champion

The 7th volume is now on sale.(560 yen)
The WEB comic "REBORN Kamen no Otoko to Ribbon no Kishi"

Homesha

The special piece for the 60th anniversary of "Princess Knight"

Original Work: Osamu Tezuka

Script: Jun Kagurazaka

Manga: Kyoko Fukaki

Homesha WEB Comic site: Pura@Home: http://homesha.jp

Free distribution

The comic book version (vol. 3) is now on sale.
"Shinri Rinsho Promenade Kokoro wo Meguru 13 no Taiwa" (Psychological clinical promenade – 13 dialogues about mentality)

Tomi Shobo

The best dialogues in his 50 years career at the clinic

Authos: Yasuhiro Yamanaka 3100 yen

Now on sale

The dialogue between the author and Osamu Tezuka contained
The Essay "Watashi no Tezuka Osamu" (My Osamu Tezuka)
Web Yuhojin

Masayuki Mineshima, the previous chief editor of Manga Sunday, writes about Osamu Tezuka, in his essay serialized on Web Yuhojin.

The 22nd essay:Bakusho, Hohoemi, Reisho, Kusho (Loud laugh, Smile, Sneer and bitter laugh)

http://www.bungenko.jp/yhj/blog/
The nominated works for the Grand Prize at the 19th Tezuka Osamu

Cultural Price

"Aizawa Riku"  Yoriko Hoshi/Bungei Shunju

"Aoihonoo" Kazuhiko Shimamoto/Shogakukan

"Ansatsu Kyoshitsu" Yusei Matsui/Shueisha

"Ansatsu Kyoshitsu" Yusei Matsui/Shueisha

"Gin no Saji Silver Sppn" Hiroshi Arakawa/Shogakukan

"Koe no Katachi" (Silver Voice) Yoshitoki Oima/Kodansha

"Goshiki no Fune" Manga: Yoko Kondo/Original work: Yasumi Tsuhara/Enterbrain

"Chaser" Cozy Shirokura/Shogakukan

"Naruto" Masashi Kishimoto/Shueisha

"Heisei Urooboe Zoshi" Hajime Toda/Asuka Shinsha

The award ceremony is held on Friday, May 22, 2015.
☆"Blue Triton" – the original reprinted edition of Toriton of the Sea (a total of 2 volumes)
The 1st volume: now on sale
The 2nd volume: scheduled to be released in late May
Price: 6000 yen each (tax excluded)
Size: B5
Special gifts only available at Fukkan.com mail order store
The reprinted illustration of "Toriton and Pipiko", originally illustrated by Osamu Tezuka in 1975" is given to a customer who purchases a total of two volumes of the work from Fukkan.com mail order store.
Limited quantity.
For further information, visit the following: here!
☆ Tezuka Osamu Shoten at Maruzen, Marunouchi
All books, magazines and goods related to Osamu Tezuka are sold at the store. Plus some products and services limited at the store are offered!
Place: Maruzen Marunouochi 3F. (marunouchi oazo shop & restaurants)
Address: 1-6-4 Maruochi, Chiyoda, Tokyo
Hours: 9:00 – 21:00
Closed irregularly
For further information: here!