(2015/05/04)


"Dotsuitare" is turned into a radio drama!
"Dotsuitare", a work authored by Osam Tezuka based on his own experience in Osaka, is turned into a radio drama this year, the 70th anniversary of World War II.
Date & Time: May 25, 2015     20:00 – 21:00
Station: MBS Radio (1179 kHz) * only available in Kinki area
Director: Shuishi Shima (MBS Radio)
Script: Kunihiko Okamoto (Theater Group: Tenohirasaizu)
Cast: Motoshi Yoshii as Tetsu, Kenjiro Misaka as Takatsula, Misora Makino as Miho, Yuichiro Hashida as Katsuragi, Sakiko Ueshima as Kazuko, Shugo Kawasaki as Masaru, Daisuke Hamazaki as a young man
Planning: MBS Radio
Official Website: http://www.mbs1179.com/
Check the original work on the following site: https://tezukaosamu.net/jp/manga_syllabary_search/307.html
Report from the recording studio
The drama was recorded at MBS studio in Chaya town in Osaka the other day. The actual recording started in the afternoon, following the morning session in which actors read lines together. Each actor entered the studio separately to rehearse and record his/her lines.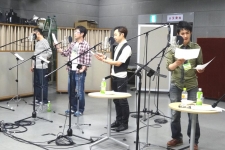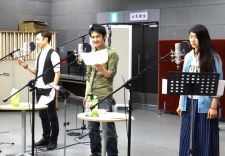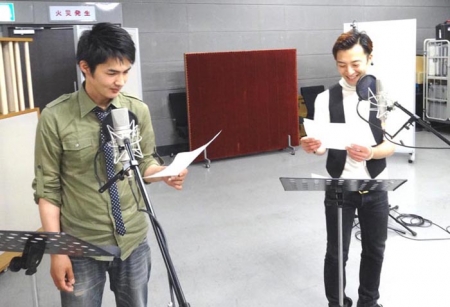 Mr. Motoshi Yoshii (left) and Mr. Kenjiro Misaka (right) kindly gave an interview during the break.
Both Yoshii and Misaka said they read the original work for the first time for the drama, but their reactions were opposite.  Yoshii said his previous image of Tezuka and the world of the work were completely different while Misaka said he felt Tezuka's strong message from the work as he always did from other works.
Before the recording, they talked about the work in the morning session so that they could share their ideas for the drama in which how Tetsu and Takatsuka lived the time after war was depicted, as done in the original work, though in a different way.
Yoshii said "I learned a lot from Tetsu through the role. I played the role hoping to convey his desperate way of life to audience." and Misaka said "Takatsuka chose the dream as a way to live, which we could not imagine now. I would like to reflect such his strength on the role."
During the short interview with them, they said "to live" and "desperate" several times, which shows how they were impressed at the work. Their enthusiasm toward the roles was felt from the fragment of their lines.
The recording was finished in the late afternoon.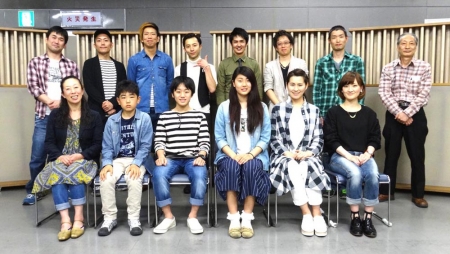 Mr. Yoshii and Mr. Misaka, thank you very much for accepting the interview!