(2015/01/26)


The special monthly book marker* is given to customers who purchase books/products at Tezuka Osamu Shoten. Three-eyed One is designed on the February version!
*Quantity limited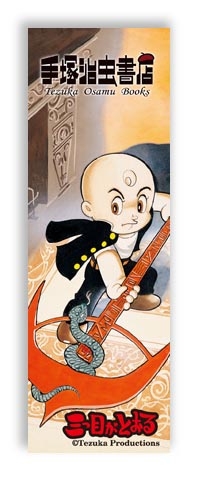 ☆ Tezuka Osamu Shoten at Maruzen, Marunouchi ☆
All books, magazines and goods related to Osamu Tezuka are sold at the store. Plus some products and services limited at the store are offered!
Place: Maruzen Marunouochi 3F. (marunouchi oazo shop & restaurants)
Address: 1-6-4 Maruochi, Chiyoda, Tokyo
Hours: 9:00 – 21:00
Closed irregularly
What is "Tezuka Osamu Book Sotre"?
This store is aiming to sell all and every kind of books related to Osamu Tezuka. Not only Tezuka's manga books but also any other books related to him, including picture books, art books, manga and collaborative woks based on his works, studies and essays about him, are lined up. Customers can also use TEZUKA SPOT, a e-book library service providing his manga works for free within the site.? Several goods and on-demand books are available at the store, too.
For further information : https://tezukaosamu.net/en/news/?p=5948