(2015/02/26)


Unico brings love and encourage you!
Unico is re-published from Little More this spring for the first time in 40 years since it appeared on Lilico, a girl's comic magazine then. This time all 400 pages full-color in the original manuscripts are precisely scanned with state of the art technique! An adorable unicorn kid, Unico, has a mysterious power to make people around him happy when he is loved by someone. His sweetness will sure get to the hearts of young women today without losing his allure. Why don't you have Unico fancy edition with dressing box as your life-long comic beside you?
Release day: late March Author: Osamu Tezuka Book Cover Design: Tatsuya Ariyama/Mika Nakajima (Ariyama Design Store)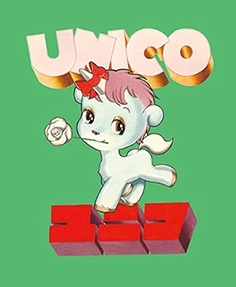 ●Unico fancy ediction with dressing box (a total of two volumes)
Price: 6000 yen each (tax excluded)
B5/hardback/with dressing box/full color/Unico illustration card contained
1st volume: 216 pages, 2nd volume: 188 pages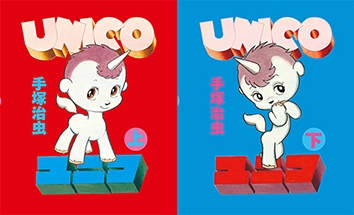 ●Unico normal edition (a total of two volumes)
Price: 1500 yen each (tax excluded)
B5/softcover/full color
1st volume: 216 pages, 2nd volume:188 pages
*For further information, check Little More site.
Pre-Sales of new Unico!
Ahead of the nationwide release from March 27, new reprinted version of Unico is sold at Matuya Ginza from March 18 to march 31 during GINZA FASHION WEEK, and Unico are everywhere in Matsuya, decorating the shop windows and store fronts. Also Unico Charity Pins and Unico x Macarron by Pieere Herme are sold. Meet Unico at Matsuya Ginza now!