(2015/03/01)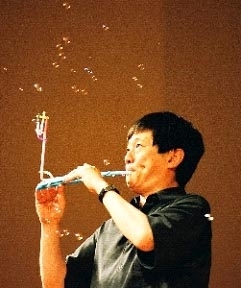 TOMM holds a straw music concert. Ordinary straws we use in daily life.
emanate surprisingly rich and vivid music as if it develops a wander land like the animation created by Osamu Tezuka.  Familiar songs for kids from Tulip, Elephant, Katatsumuri to Astro Boy are played at the concert.  Why don't you come and have fun with the straw music?
Date; March 22, 2015
Time: 13:00-13:40, 15:20-16:00 (two times a day)
Venue: Atom Vision at TOMM (1F.)
Fee: Free (admission fee to enter TOMM required separately)
Seats: 50 (FCFS)
How to apply: Call to TOMM (tel: 0797-81-2970).  Application accepted from March 2.
Performer: Toru Kamiya (part-time instructor for Osaka College of Music