(2015/02/27)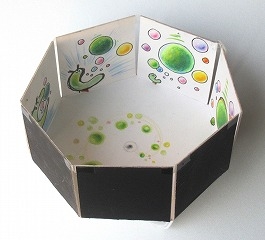 The Workshop: Mechanism of Animation gives participants a chance to learn the mechanism of animation by making simple equipment called "Zoetrope".
Date: March 14 and 15, 2015
Time: 10:30, 12:00, 13:30 and 15:00 (four times a day/each takes about an hour)
Venue: TOMM (opening space beside the elevator on the 2nd floor)
Fee: 200 yen (admission fee to enter TOMM required separately)
Seats: 8 per time (FCFS)
Instructed by a lecturer at Osaka Designer College
How to apply: Call to TOMM (tel: 0797-81-2970).  Application accepted from March 2.