(2008/11/03)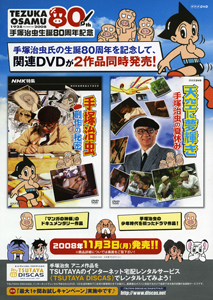 Two TV programs about Tezuka Osamu, which aired on NHK, will be released on DVD on November 3, 2008 to commemorate the 80th anniversary of Tezuka Osamu's birth.  
NHK Special The Secret of Creation  
This is an extremely valuable documentary that attempts to capture the natural self of the "god of manga"! It is a documentary that tries to unearth the creative secret of Tezuka Osamu.  For the first time, remote-control cameras were taken into Tezuka's workroom located in an apartment building in Tokyo which even his assistants were not allowed to enter.  The documentary contains extremely valuable footage showing Tezuka dedicating himself to manga, working in superhuman fashion.  He talks frankly about overcoming artistic slumps, creative distress, inspiration for Adolf, and childhood memories.  The film shows him struggling to draw manga after going without sleep.  This creative history of the "god of manga" shows his continuing psychological distress.  It is a must-see documentary not only for Tezuka fans but also for people working in the animation industry.  
Cast:
Tezuka Osamu: Himself
Akashi Isamu: Narrator  
[DVD details]
1986, Japan, color, 45 min., 4:3 aspect ratio, 1 disc, single-sided/single-layered, monaural sound, MPEG-2, NTSC, Amaray case*
*Subject to change.  
Dream Sparkles in the Sky – Tezuka Osamu's Summer Vacation
Not giving up, and being tough and strong. This is an HD drama produced to commemorate the 70th anniversary of NHK Osaka TV station.  Things that happened during one summer of Tezuka Osamu's childhood are vividly depicted.  The boy Tezuka, who is forbidden from drawing by his father because he has to concentrate on his schoolwork, meets Nakata, a vagabond watch repairman.  Nakata teaches him to catch insects and eventually the boy Tezuka is drawn into the world of insects.
Cast:
Miura Tomokazu, Tanaka Kunie, Matsubara Chiaki, Yoshizawa Takuma, Mori Keaki, Shiomi Sansei, and others
 [DVD details]
1995, Japan, color, 89 min., 4:3 aspect ratio, 1 disc, single-sided/single-layered, stereo sound (Dolby Digital), MPEG-2, NTSC, Amaray case*
* Subject to change.  
For both DVDs:
Price: 4,935yen (including tax)
Release date: November 3, 2008