(2015/03/12)


Commemorating the release of new reprinted version of "Unico", Matsuya Ginza features Unico from May 18 at and around the store.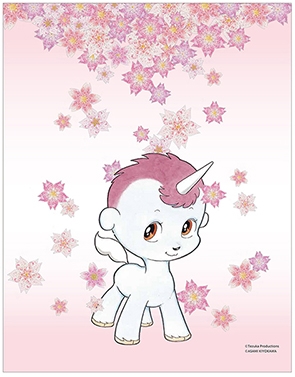 The 8th GINZA FASHION WEEK, co-organized by Matsuya Ginza, Ginza Mitsukoshi and Printemps Ginza, is held from March 18. And as a part of the event, Matsuya Ginza adopted cherry blossoms, the symbol of spring in Japan, and Unico designed by Asami Kiyokawa for its own promotion.
Everywhere in Matsuya, including its show windows and displays are decorated with Unico and cherry blossoms, filled with spring colors!
GINZA FASHION WEEK
Period: March 18, 2015 – March 31, 2015
Pre-Sales of new Unico!

Ahead of the nationwide release from March 27, new reprinted version of Unico is sold on the 2nd floor of Matuya Ginza.
(a total of two volumes/1500 yen each without tax)
The version only available at Matsuya Ginza tab mall At tab Mall by Matsuya Ginza, the new version of Unico with a special tote bag is sold. Only limited units available!
Reservation from here!
The Exhibit of Tezuka's Reproduced Manuscripts & Tezuka DigitalLibrary
On the 2nd floor of Matsuya Ginza, Unico's reproduced manuscripts originally drawn by Osamu Tezuka are displayed. Along with the exhibits, Tezuka Osamu Digital Library is opened during the period.
Original Charity Pins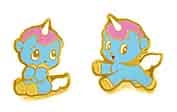 During GINZA FASHIO WEEK. Unico original charity pins are sold at the entrance of Matsuya Ginza. All the proceeds from the sales are donated
to the Foundation for Promoting Sound Growth of Children, the organization supporting children in the area damaged by the Great East Japan Earthquake. *limited quantities.
Unico x Macarron by Pieere Herme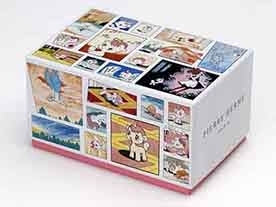 Celebrating the release of new version of Unico, Pieere Herme sells special macarrons contained in the package decorated with images of Unico. Available at Pieere Herme store on the basement of Matsuya Ginza.
Related website:
Little More: http://www.littlemore.co.jp/
Matsuya Ginza: http://www.matsuya.com/m_ginza/
Tab Mall: http://mall.tab.do/
Asami Kiyokawa: http://www.asamikiyokawa.com/