(2015/01/09)


Just before the first performance of the play "PLUTO", a press conference was held.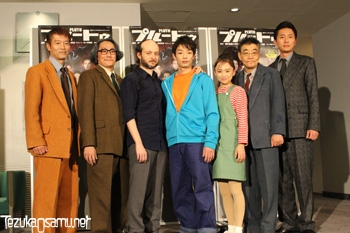 From the left: Yasufumi Terawaki, Kazutoyo Yoshimi, Side Larbi Cherkaoui, Mirai Moriyama, Hiromi Nagasaku, Akira Emoto, and Yutaka Matsushige
The following is an excerpt from the press conference:
Question: Tell us about your enthusiasm for the play?
Side Larbi Cherkaoui: I am a big fan of Mr. Osamu Tezuka, and I 'm also a fan of PLUTO by Mr. Naoki Urasawa.  I think the work has a deep theme as Shakespeare's plays do.  And many characters appear in it.  I'm lucky because I was given such a wonderful chance.  I can't wait the first performance.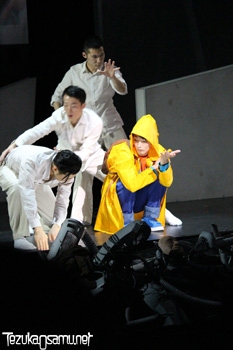 Question: Which part of the play is the most impressive?
Mirai Moriyama: It's hard to pick up one part.  I think any part (of the play) is beautiful since every scene or every movement is developed like a huge picture.  Performer's body, dialogue, music, movies, stage arrangements- all of those elements are fully used, which makes the play a composite art.  I am quite interested in how audience takes the approach.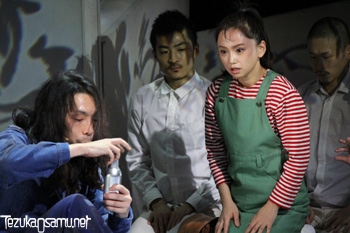 Question: How did you feel when you were offered the role?  What's your impression of Larbi-san?
Hiromi Nagasaku:  When I firstly heard about the play, I wondered how the work would be turned into the play.  So I asked him "What should I do?", and he said he did not know yet. He said "You may dance or sing. We have a lot of possibilities." Anyway I felt unlimited possibilities and energy from him.  So I accepted the offer even though I didn't know what I would do. Then I had a chance to see his works. I thought his free spirit toward expressions was really beautiful.  I felt such his pure attitude was quite attractive.
Akira Emoto: I saw some of his works after accepting the offer.  I haven't participated in such kind of play before. So I first felt uneasy.  But this would be my challenge for a new world.  Larbi-san has very beautiful eyes.  Beautiful but sorrow.  I was impressed at such his eyes, which were not on things or person in front of him but somewhere far even while he was staging.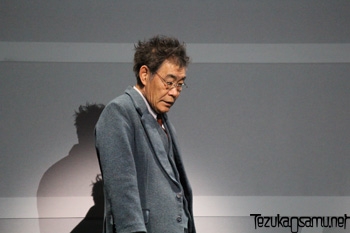 Kazutoyo Yoshimi:  I accepted the offer without any prior knowledge. First I thought playing Dr. Ochanomizu might be fun, but I was not sure how to play the role after reading the original work.  Then I saw TeZuka.  I thought I could trust him and wanted to make up the stage with him.
Yutaka Matsushige: I didn't know his name till I was offered the role.  One day I was watching TeZukA on DVD at home. Then my daughter, who is now studying acting at university, just came in and said, "Oh, it's Larbi's."  So I said her I was thinking of acting in his play.  She said I should definitely take the role.  That's why I decided to accept the offer.  Now I think she gave me a good advice.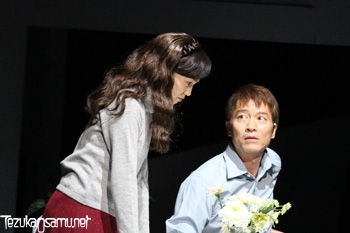 Yasufumi Terawaki:  I've loved Astro Boy since my childhood.  All the things around me, including clothing, shoes and more, had Astro boy on them.  I accepted the offer without thinking because PLUTO is a remake of my favorite Astro Boy by Mr. Urasawa, who is also one of my favorite manga artists.  Larbi's staging is based on concrete reasons.  He can explain everything with clear theories. But he is also instinctive, and brave enough to change what he's already decided. Every time we are led to challenge different things, and actually that's the best thing to do.  He always does his best to make up the best stage, and I respect such his attitude very much.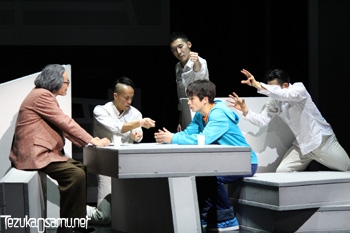 Question:  Mr. Moriyama, audience must have been looking forward to see your performance on the stage again.  Would you please give a message to audience?
Mirai Moriyama: This is the first stage since I came back from Israel, and I am very happy to be here.  I don't know how my experience in Israel would be reflected on the stage, but I don't put too pressure on myself.  I just like to do my best.
Question: Do you think of having the play tour to any other countries?
Side Larbi Cherkaoui: I would like to have the play tour to France or other countries in Europe.  People in Europe, especially in my age, are familiar with Japanese manga and animation works.  They've grown up with them.  Both Mr. Tezuka and Mr. Urasawa are famous outside Japan.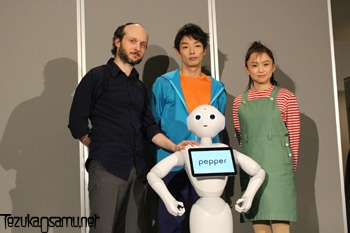 As a surprise, Larbi announced that Pepper appears on the stage as scheduled below:
Jan. 10  17:00
Jan. 21  14:00/19:00
Related Information
The greates robot on earth" in Astro Boy is turned into a play!