(2014/12/17)


The collaborative exhibition between Osamu Tezuka and Otomate!
The collaborative exhibition between Osamu Tezuka and Otomate titled "The Exhibition: Tezukaotome" starts in July.
Here we have the key visual for the exhibition "AMNESIA x Black Jack" by Mai Hanamura.  We will continue to introduce the exhibition including exhibits and original museum goods on the site.
The Exhibition: TezukaOtome
Venue: Tezuka Osamu Manga Museum (2F)
Period : July 4, 2014 – October 27, 2014
Organizer : Takarazuka city/Takarazuka-city Board of Education
Supported by Kiss FM KOBE/FM Takarazuka
Cooperated by Idea Factory/Design Factory
Collaborative Titles
Today's popular illustrators create the following collaborative works based on Osamu Tezuka's manga works.
"AMNESIA" x "Black Jack" by Mai Hanamura
"Hakuoki" x "Buddha" by Shikihanagumi
"Reine des Fleur" x "Dororo" by Kagero Usuba
"One of Fortune" x "Princess Knight" by Teita
"NORN9 Norn + Nonet" x "Metropolis" by Uta Natsume
"CLOCK ZERO" x "Astro Boy" by Uta natsume
"Mojutsukai to Oji-sama " x "Jungle Emperor" by miko
"Grass Heart Princess" x "Marvelous Melmo" by Yuki Kinami
"Shirahana no Ori" x "Phoenix" by Ike
"SNOW BOUND LAND" x "Unico" by Aya Murasaki
"Shinobi Koi Utsutsu" x "Princess Knight" by Tatsunori Nakamura
"Koibana Days" x "Marvelous Melmo" by Katsuyuki Hirano
Various original goods based on the collaborative illustrations will be coming soon!
The following original goods are newly added to the lineup!
Release date: July 4, 2014
The 12 illustrations prepared only for the exhibition are designed on the following items.
-       TezukaOtome Art Card (12 patterns) 600 yen each (tax excluded)
-       TezukaOtome Button Budge (12 patterns) 300 yen each (tax excluded)
-       TezukaOtome IC card Jacket (12 patterns) 500 yen each (tax excluded)
Sweets with Otomate popular characters
-       AMNESIA World Lollipop (5 patterns)  200 yen (tax excluded)
-       AMNESIA World Marshmallows 6 Pack  300 yen (tax excluded)
-       Hakuoki Marshmallows 6 pack  300 yen (tax excluded)
-       NORN9  Norn and Nonette Marshmallows 9 pack  450 yen (tax excluded)
Special Giveaways for visitors
Otomate cards are given to visitors as Special Giveaways.
Each week has different cards as specified.
* One for each person
* Limited quantities
TezukaOtome Collaboration Menu
During the exhibition period, restaurants and cafes near the museum offer special menus related to the exhibition.  Otomate cards are also given to customers who order the menus.
*  Tenshin offers Hot Noodle instead of Cold Noodle from October 1.
See the map to confirm the location of each restaurant/café.
TIt's time to experience the Otomate Museum products re-release!
Some of the items from the Shibuya Parco 【Experience Otomate Museum】will be re-released.
■Experience Otomate Art Card 7 Types
Price: 600 yen + tax
Sale Date: August 2, 2014 (Saturday)
Reine des Fleurs」×「Dororo」new illustration product will also be released
■「Reine des Fleurs」×「Dororo」Japanese Paper Poster (purple)
A new color scheme was used just for「Tezukaotome」
The posers are produced using Japanese paper illustration techniuqes
Price: 2000 yen + tax
On Sale:  August 9, 2014(Saturday)Scheduled. ※Since the product is hand cut, the edges are jagged. This is not a defect.

【Important Announcement】
The 「Reine des Fleurs」×「Dororo」(white) is scheduled for the Kyoto Marui 「Otomate Summer City 」event.
The illustration that is planned is made with a pattern and colorscheme are different from the purple.
Now new costumes are newly exhibited.
Instead of the costumes for "CLOCK ZERO A live Moment" displayed since the opening of the exhibition, new costumes worn in "Jikki no Kizuna –Sekigahara Kitan- Renbu" are displayed from September 1 till October 27.
It's a chance to see the costumes actually worn by Yukina, Chitose and Sengaku up close.
Tezuka Otome Art Book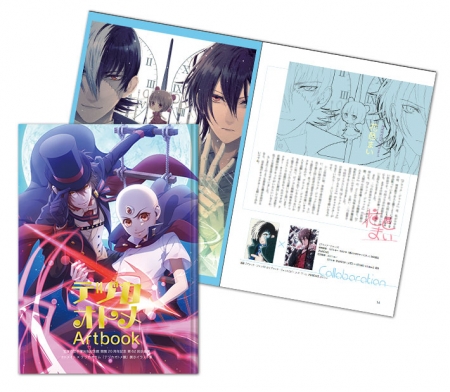 Otomate Winter Market 2014-2015 is held at Shinjuku Marui Annex.
One of the eye-catchers is Tezuka Otome Art Book in which all illustrations of Tezuka Otome as well as respective illustrator's comments are contained.
The art book is also available at the museum shop in TOMM.
For further information, visit the site below:
http://www.otomate.jp/event/winter_market/
■Information about distribution of Tezuka Otome Art Book at TOMM
Price: 2500 yen (tax excluded
Release day: December 19, 2014
- Quantity limited.
- Required to purchase an admission ticket to visit the museum shop.
- No other Otomate goods except the art book are available.
- No information provided about Otomate Winter Market at the museum shop.