(2013/08/01)


The event is to celebrate the release of the DVD of "Peeping Life – Tezuka X Tatsunoko Wonderland" on the 6th floor in PARCO Part1, Shibuya.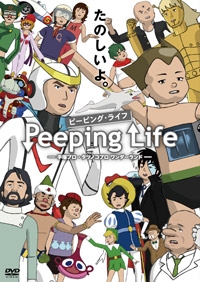 The director, Mr. Ryoichi Mori came to the event as a guest and gave a talk show as well as an autograph session for the fans.
There also was a mini concert by "detune" who sings the ending theme song.
It was the first time for the director to appear in an event and many fans came to meet him.
*Venue : PARCO Part1 6F, Shibuya
*Date : 6th July, Sat.
*Guests : Mr Ryoichi Mori (director), dutune (singer) etc.
"Peeping Life" official website : http://www.cwfilms.jp/peeping/
"2.5D Studio" official website : http://2-5-d.jp/
"Shibuya PARCO" official website : http://shibuya.parco.jp/web2/opening/