(2012/02/16)


100,000 horse power of Astro Boy is printed on the bottle of citrus taste cider.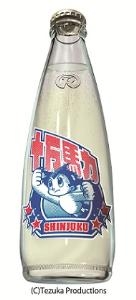 The cider is selling in Shinjuku ward as a part of recycled bottles to save the earth.
If you return the bottle to the shop you bought it from, you will receive a 50 horse power worth of local currency that you can use at member stores in Shinjuku ward.
The price is of the cider is 150 yen (tax included) and 50 horse power has a value of 50 yen, so you can drink the cider in fact for 100 yen!
Why don't you gain 50 horse power after drinking cider?!!
*Price : 150 yen(tax included)
*Shops : some of stores joining the Shinjuku store accosiation.
*For more information about stores, click here.
*For more information about the product, click here.