(2011/08/17)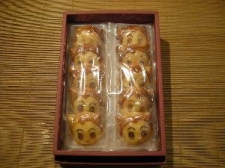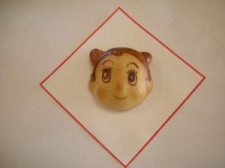 Astro Boy Kuri Manjyu (Japanese bean cake with chesnut paste) has been selling at "Aoyagi" which is the Japanese-style confection store established since 1925 in Takadanobaba. They have started selling Astro Boy Kuri Manjyu throughout the year after getting many eager requests from customers as originally the Manjyu was only on sale in April, Astro Boy's birth month.
The cartoonist Mr Osamu Tezuka used to go to the store often during his life. He liked Sarashina Manjyu which is made of buckwheat.
The cake is shaped like Astro Boy's face and you might hesitate to eat the cute face but it's very delicious!!
[Product details]
—JPY252/piece (VAT included)
—JPY1,300/5 pcs (VAT included)
—JPY2,700/10 pcs (VAT included)
Mail order is available for people who live far from Takadanobaba. (only available in Japan)
You can order by telephone, fax or internet (only in Japanese).
Please note it will take 3 or 4 days for deliverly.
*Store name : Aoyagi (青柳)
*Address : 4-13-12 Takadanobaba, Shinjuku, Tokyo (東京都新宿区高田馬場4-13-12)
*Telephone : 03-3371-8951
*Business hours : 10am – 7pm, closed on Sundays
Good for a gift or a present!