(2011/08/10)


Astro Boy Stamp Sets are now on sale since 1st August.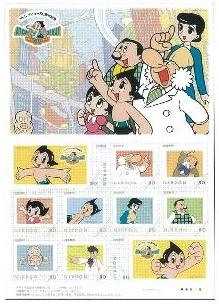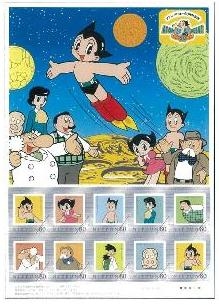 Stamp sets using Astro Boy images exclusive to Tokyo and Saitama prefecture have just come out.
To celebrate the 60th Aniversarry of Astro Boy's debut, we created designs using all the main characters apearing in the Astro Boy stories including Dr. Ochanomizu, Uran and Cobalt.
There are two themes, one is "Universe" and one is "Future".
The stamp set is made up of 10 stamps(80 yen) in a sheet and a A4 size clear folder.
[Product Infomation]
*"Astro Boy – Universe version", "Astro Boy – Future version"
*Launch date : 1st August, 2011
*Selling Post Offices : 1134 post offices in Tokyo and 94 post offices in Saitama
(excluding Minato-ku (only available at Nishi-Shinbashi office), Shibuya-ku, Meguro-ku, Adachi-ku, Katsushika-ku, Musashino-shi, Mitaka-shi, Chofu-shi, Komae-shi, Fuchu-shi, Inagi-shi, Tama-shi, Izu islands, Ogasawara islands and simple post offices)
*Quantities : 15,000 set each design in Tokyo, 1,000 set each design in Saitama
*Price : 1,500 yen (VAT included) /set
100 sets each of the stamp sets are also available on "Post Office Net Shop".
(Please note a freight fee shall be charged when you buy them on the above Net Shop)