(2011/05/09)


-New Product Information-  The limited model featuring Black Jack is released from SEIKO GALANTE!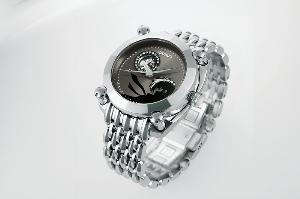 For this year the limited model featuring Black jack is released from SEIKO GALANTE, following the Astro Boy model released last June, which was sold out soon.
Based on the concept of "a light in the darkness", Black jack is designed like a shadow on the black dial and only his white hair is gleaming.
Also a black spade is printed on the glass rare case and the open heart is G-shaped trimed with crystal stones.  This gorgeous exclusive watch is the first mechanical version with a metal band from GALANTE.
Detailed Information
Commodity Number: SBLL013
Price: 630,000 yen (tax included)
Release Date: July, 2011
Available Units: 170
Distribution Point: SEIKO GALANTE stores in Japan (44 stores as of Feb. 2011)
For more information, please click here. (To SEIKO GALANTE website)