(2010/02/01)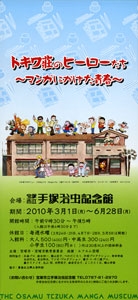 Tezuka Osamu Manga Museum holds the exhibition "Heroes in Tokiwa-so – The youth spent for Manga-" from March. 1, 2010.

Tokiwa-so is known as a legendary apartment where a lot of talented and ambitious manga artists used to live together to improve by learning from others. . This exhibition reveals life and companionship of such manga artists.
Manga artists introduced at the exhibition
Hiroo Terada
Fujiko F Fujio
Fujiko Fujio
Shinichi Suzuki
Naoya Moriyasu
Shotaro Ishinonori
Fujio Akatsuka
Hideko Mizuno
Tokuo Yokota
Osamu Tezuka
Exhibition period: Mar. 1 (Mon.) to Jun. 28 (Mon.), 2010 9:30 a.m. to 17:00 p.m. (Visitors must enter by 16:30 p.m.
Place: Takarazuka Tezuka Osamu Manga Museum
Admission fee: 500 (400) yen for adult. 300 (240) yen for students (junior high & senior high school), 100 (80) yen for elementary school students. The fee in the ( ) is applied to groups with 30 or more.
Contact: Tezuka Osamu Manga Museum 0797-81-2970