(2009/11/05)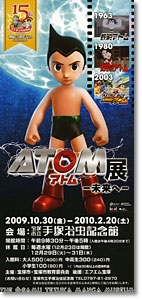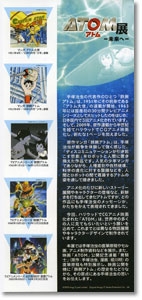 Period: Oct.30, 2009 – Feb. 20, 2010
Venue: Tezuka Osamu Manga Museum

"Astro Boy", known as one of Tezuka's representative works, was firstly serialized in 1951, as the work titled "Ambassador Atom", the predecessor of the work. The work was made into animation and broadcasted as the first Japanese 30 min. TV animation series in 1963, followed by another two TV animation series. In 2009, after half a century since its first serialization, the work was made into a theatrical CG animation movie in Hollywood, which added another page to its history.

In the original manga, Tezuka depicted tragedies caused by miscommunication which Tezuka strongly felt during war time, and placed a robot as a main character instead of a human. Naturally "Astro Boy" was a very popular title among boys then, and yet Tezuka depicted several problems such as racial discrimination and destruction of nature and held a warning for advancement of science through Astro boy struggling between humans and robots.

So far each "Astro Boy" series has set out the freshness to the audience with new storylines and characters, and presented Tezuka's messages in various ways.

Likewise, the latest "Astro Boy" movie produced in Hollywood also adopted a new storyline and character design different from the previous works, with the hope that people all over the world would watch and enjoy it.

In this exhibition, many of Tezuka's original manuscripts, materials and celluloid pictures are displayed. Also, the original manuscript of "Blue knight" (story by Osamu Tezuka, picture by Akira Himekawa), which was serialized to commemorate the release of the latest CG animation movie "Astro Boy", is displayed. The exhibition traces the history of "Astro Boy" and conveys Tezuka's thought at the origin of the work.

*Click here for general information of the museum.