(2011/04/25)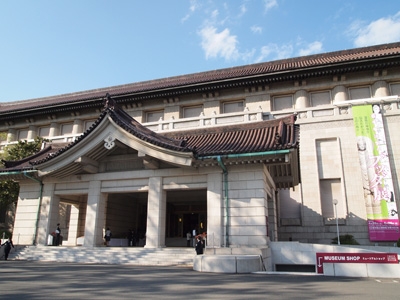 The opening ceremony and private view of the Exhibition: Tezuka Osamu's Buddha was held on April 25. The Exhibition introduces the life of the founder of Buddhism through the displays of various Buddha statues and Tezuka Osamu's manga drawings.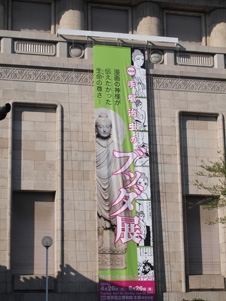 The opening ceremony held at the entrance hall of the main building was filled with many guests as you see below.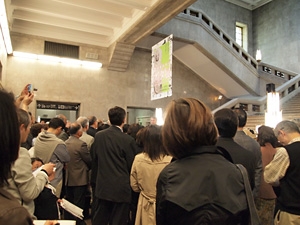 After the opening remarks by the organizer, sponsor and guest respectively, the ribbon cutting ceremony was held.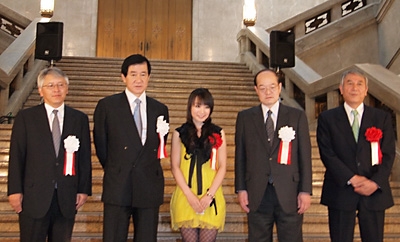 From left, Mr. Ichiro Nobukuni (Executive Director of TBS), Mr. Yusuke Okada (President of Toei), Ms. Nana Mizuki (Voice Actress playing Migera in the movie: Buddha), Masami Zeniya (Director of Tokyo National Museum) and Takayuki Matsutani (President of Tezuka Productions)
At the private view, the audio guide by Nana Mizuki, which introduces high-lights of the exhibition as well as tips about how to view, was provided to audience.
This audio guide is available at 300 yen during the exhibition period. (500 yen for two people)
Also various goods related to "Buddha" are sold at the museum store.
The exhibition: Tezuka Osamu's Buddha started from April 26.