(2011/04/25)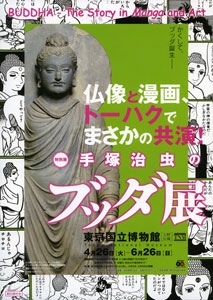 To commemorate the movie: Buddha, the Exhibition: Tezuka Osamu's Buddha is held at Tokyo National Museum.  Tezuka Osamu's original manuscripts are displayed with Buddha statues not only from Japan but also from Gandhara.  It is the first time for Tokyo National Museum to hold an exhibition of Manga manuscripts.
Period: April 26, 2011 – June 26, 2011
Venue: Special Room No. 5 in Main Building at Tokyo National Museum (Ueno, Tokyo)
Admission Fee:  Adult: Today's ticket 800 yen, Advance ticket 700 yen, College student: Today's ticket 600 yen, Advance ticket 500 yen.
A reasonable set of movie ticket and exhibition ticket are distributed at 1800 yen (available by May 27)
URL: http://www.budda-tezuka.com/