(2011/03/31)


-New Product Information-  Princess Knight Stamp Sheet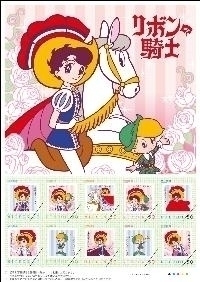 This time Princess Knight Stamp Sheet is released as the 3rd series, followed by Astro boy and Jungle Emperor's series.
Release date: April 1, 2011
Number of sheets available: 17,200
Content: ten 50 yen stamps per sheet/Sapphire paper dress-up doll sheet
Price: 1,200 yen (tax included)
Available at post offices in Tokyo except in the following cities/wards (a total of 1134 post offices): Shinagawa, Ota, Minato, Shibuya, Meguro, Musashino, Mitaka, Cyofu, Komae, Fucyu, Inagi, Tama, Izu and Ogasawara.
Sapphire Paper Dress-up doll sheet is enclosed in the package,.  Six costumes, both boy's and girl's attire, can be detached from the sheet (Please detach along the line). Enjoy dressing up Sapphire with them!