(2011/02/24)


Astro Boy appears on the logo of Azumaen Driving School!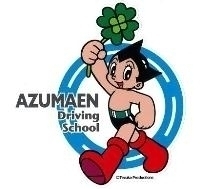 A four-leaf clover, which Astro Boy holding up high in the logo, is the symbol of Azumaen and the mark representing disabled people in Road Traffic Act of Japan.  This new logo is put on their instruction cars as well as pick up buses.  Also the logo appears on Azumaen's signs set in front of Higashi-Kurume station and Hibari-ga-oka station on Seibu Ikebukuro Line.  Please check them out when you go to Niza area.
Azumaen Driving School, located in Niza-city, Saitama, is the first driving school which started providing driving lessons for disabled people in systematic ways at "Training Center for Disabled Drivers" attached to the school and has achieved the most remarkable success as a driving school for disabled people in Japan.  For more information about Azumaen Driving School, visit the official web site!