(2011/02/25)


-New Product Information- The Buddha T-shirt by HEROISM is now on store.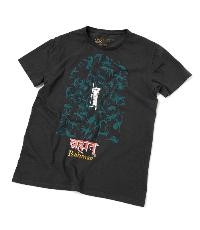 HEROISM, a fashionable, high-quality T-shirt manufacturer mainly featuring heroes in manga, video games and animation, has released Buddha T-shirts.  Like their other products, these T-shirts are manufactured carefully with good printing.
Now the orders for the T-shirt with the image of Brahman, a man who led Siddhartha to be a monk, is being accepted.  The logos on the T-shirt is written in Sanskrit, meaning "Brahman".
Several other T-shirts are also planned to be released.  Please check them too!
Price: 5,250 yen (made in Japan)
Sizes and Colors
Beige: S / M / L / XL
Black (Gray): S / M / L / XL
Black (Green): S / M / L / XL
To purchase the products above and obtain related information, click here. (To HEROISM's site)