(2011/03/03)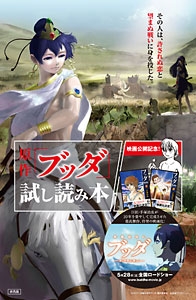 To commemorate the release of the movie "Buddha", free booklets of its original manga work are now available at some movie theaters and bookstores.
The free booklet introduces us the settings and characters both of the movie as well as the original manga work. It also contains some supporting documentation of the work and excerpts of the original comic.  You sure will be satisfied with its rich contents.  Please find it at the movie theaters or bookstores near you.
The booklets are distributed at a part of movie theaters and bookstores nationwide for free.
Note the service will be finished when the stocks are out.