(2011/02/23)


The special package for Caramel Corn by Tezuka Productions appears!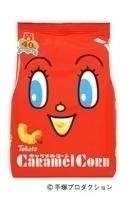 In commemoration with the 40th anniversary of Caramel Corn, Tezuka Production is participated in the production of its package.
This time Tezuka Productions designed the face on the popular red package of the product only available for a limited period. A face of a boy with big cute eyes decorates the package.
The package will arrive in stores in the mid of June. They are available only for a limited period.  Don't miss it!
Actually, not only Tezuka Productions but also three other manga artists are also participated in this project.  Don't miss their packages too, which are planned to arrive one after another from March 14.