(2011/02/24)


New Product Information Tezuka Characters in Ukiyoe Prints!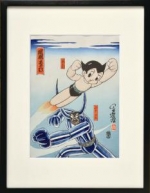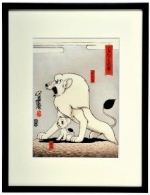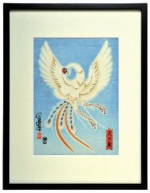 Tezuka Characters are now re-born in Ukiyoe prints!  These Ukiyoe prints, being overprinted more than twenty times, present unprecedented Tezuka world, together with Tezuka's unique characters.  Indeed they are the fusion of Tezuka characters and Japanese traditional art. You may feel as if the works were created in Edo period by Tezuka Osamu, himself, who traveled beyond time and space.   The print maker of these works is Kyoto Chikuseido, a traditional wood printing house in business for 120 years.
The prints can be displayed on the wall of your office as well as your study.  Or they are good as presents for someone special.  The beautiful colors and elegant curving lines of the prints will sure satisfy you. Please see the works by yourself!
Product Information
- Astro Boy (Wood Prints, Overprinted 19 times)
- Phoenix (Wood Prints, Overprinted 19 times)
- Jungle Emperor (Wood Prints, Overprinted 14 times)
All of the prints were based on Tezuka Osamu's original manga works. 
Publisher: Bi-enta Co., Ltd., published in 2011
Printing house: Kyoto Chikuseido
Sheet size: 31.3 cm (height) x 22.5 cm (width)  Echizen hand-made paper
Picture size: 25.5 cm (height) x 18.5 cm (width)
Frame size: 39.7 cm (height) x 30.3 cm (width)
Only 300 units available
Price: 30,000 yen (tax included, without frame)  40,000 yen (tax included, with frame)
Note that purchasers are not able to choose their preferable edition numbers.
To purchase the prints, visit here.  (To Bi-enta's online store)