(2011/03/07)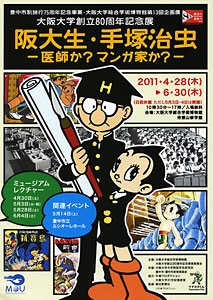 Tezuka Osamu made his debut as a manga artist in 1946. On the other hand, he entered Faculty of Medicine of Osaka University just a year before his debut.  Tezuka did double duty as a student and a manga artist as if he spent the life of Dr. Jekyll & Mr. Hyde.
This time, the exhibition focusing on Teauka Osamu's such student days is held at Machikaneyama Shugakukan at the Museum of Osaka University to commemorate the 80th anniversary of Osaka University.
Period: April 28, 2011 – June 30, 2011
Open Hours: 10:30 – 17:00
Admission: Free
Venue: Machikaneyama Shugakukan, the Museum of Osaka University
Four Museum Lectures are held during the period at Seminar room on the 3rd floor of Machikaneyama Shugakukan.  Open to public.  To participate, please come to the room 30 min. before the lecture time.
The 32rd Lecture
Date & Time: April 30, 2011 13:30 -15:00
Lecturer: Akira Saito (Associate Professor of Division of Applied Science, School of Engineering, Osaka University)
Title: More than one Tezuka Osamu-Wonder of Tezuka Osamu, seen form a scientist
The 33rd Lecture
Date & Time: May 3, 2011 13:30 – 15:00
Lecturer: Rumiko Tezuka
Title: Tezuka Osamu as a father
The 34th Lecture
Date & Time: May 28, 2011 13:30 – 15:00
Lecturer: Yoshihiro Shimizu (General Manager, Tezuka Productions Co., Ltd.)
Title: Tezuka Osamu's Manga and Animagions in Historical Points of View
The 35th Lecture
Date & Time: June 4, 2011 13:00 – 15:00
Lecturer: Toshio Hirano (Professor of Osaka University, Former Dane of Medical School)
Title: Looking back the past and thinking of the future of Medical School of Osaka University
Related Event:
As a related event of the exhibition, the following talk show will be held at ToyonakaCity Luciole Hall.
Content: Talk Show (related to the exhibition) and "Tezuka Osamu Story" by Tokaku Kinoshita
Date & Time: May 14, 2011 14:00 – 16:00
Venue: Toyonaka City Luchiole Hall
(Admission free / open to public / doors open 30 min. prior / 60 seats)
Contact: Toyonaka City Bunka Geijyutsu Kokusai Shitsu