(2011/02/10)


New Product Information  Astro Boy Marble Chocolate Revival Version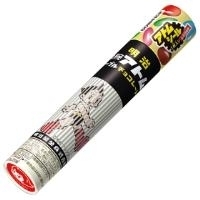 To commemorate the 60th anniversary of Astro Boy and the 50th anniversary of Marble Chocolate, Astro Boy Marble Chocolate Revival Version is released!
This time all five packages which were very popular among kids around 1965 were revived.  The image of Astro Boy can be animated just by turning the silver-striped film over the cylindrical package.  Just try it!
Once you open the package, you will find bits of knowledge about Astro Boy and Marble Chocolate (a total of five kinds).  Also each package has one Astro Boy Sticker (a total of 49 kinds).  Why don't you try to collect all of them?
The product will be released on Feb. 15 nationwide.