(2011/01/24)


New Product Information  MugyuMugyu balls in capsule toys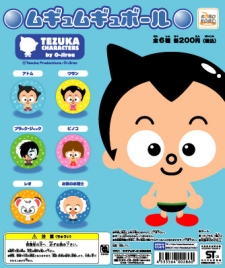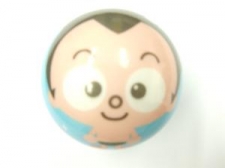 The first product from Tezuka Characters by O-jirou, the new collaboration brand of O-jiro and Tezuka Productions, is now on sale! This MugyuMugyu ball, made of soft plastic sponge, doesn't hurt at all if it hits your body, so you can play catch with it even in the house.  Now this ball can be obtained at capsule vending machines, so-called Gacha-Gacha.  Why don't you try?
Other products from Tezuka Characters by O-jiro are also planned to be released from now on.
Product Information
Price: 200 yen (tax included)
Selling Agency: System Service
Distributor: Creation Com
About O-jiro (Character Designer)
Based on the concept of "small and cute," O-jiro creates characters loved by a wide range of generations for various media.  So far he has designed several goods, including novelties for Linger Hat's kid's menu, supplements for Shogaku Gonensei from Shogakukan, iPhone cases from VOXPOP and DS cases for NINTENDO DS.