(2011/01/24)


New Product Information  Incused Medals only available at Kyoto International Manga Museum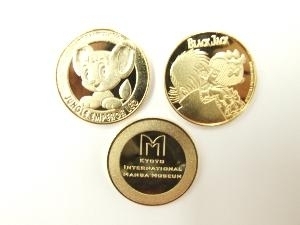 Two kinds of incused medals, one with Leo putting his forepaws forward and another with Black Jack and Pinoko, available only at Kyoto International Manga Museum are newly released.  Including the existing medal of Astro Boy, now three kinds are lined up.
These medals have the mark of Kyoto International Manga Museum on the reverse. They must be good as a memento of your visit to the museum.  
Why don't you visit the museum and get the medal next time you go to Kyoto?